We're now less than two months away until the wedding day. Yesterday, Lewis bought his and the best man's suits (they're going to look fly AF) and I bought my sister's bridesmaids dress (and she looks amazing), and we're having our final meeting with the venue tomorrow.
It's all falling into place now.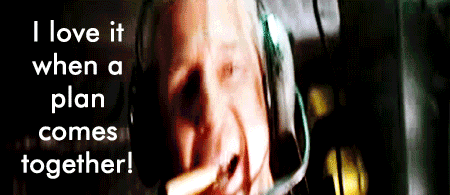 We've been engaged for just over three years now and the wedding has gone through a range ideas and guises in that time. We never really intended to have a long engagement, but never felt the need to rush into it either.
However, if we'd have stuck to our original plans, we'd have already been married.
Let me explain.
In October 2014, just four months after getting engaged, we went to visit a venue we found online.
The Larmer Tree is a beautiful outdoor wedding venue in the heart of Wiltshire. I loved absolutely everything about the venue, from the wide open field and tiny streams to the outdoor theatre and deck chairs. However, the thing that really did it for us was the Roman Temple.
This stunning structure can host all of the legalities for weddings, and it was exactly what I knew I'd wanted since I knew what weddings were.
So we booked it. We were set on a 22nd July wedding date (our anniversary) but were told this wasn't possible as they hold a music festival each year at this time. But that was OK because the venue was perfect.
It even had peacocks for crying out loud!
So, we paid the deposit and secured the venue for Friday 28th April – as late as we could have it before the prices doubled for summer. I'd always wanted a summer wedding, but it was OK, because the venue was perfect.
We started looking at accommodation in the surrounding area and found it was slightly limited. We only wanted a small wedding, so this wasn't too much of an issue. Plus, the venue was perfect.
And it was perfect. But you have to pay for perfect.
What seemed like an amazing idea through the haze of newly engaged excitement turned into a far too expensive and inconvenient pipe dream. Once we started totting up the costs of the whole endeavour, it was coming out at nearly two thirds of the budget blown on food alone. We just couldn't justify it any longer.
So at the end of May last year we emailed our cancellation, just in time to get the deposit paid back to us. We didn't rush into looking again, and to be honest we didn't think we'd find anything that made us feel the same way that the Larmer Tree did.
Until we found Riverside.
It's very different to the Larmer Tree, but gives us absolutely everything we want and need in a venue, and well under budget.
We won't be having the wedding outside, but we do have a beautiful garden area to spend the whole afternoon and evening if we wish.
We don't have exclusive use, but we do have complete control of three different rooms and our garden space.
People will still need to travel to the venue and stay over, but they won't necessarily need to book work off on a Friday and there's lots of availability for hotels in Stratford-upon-Avon.
We've still not managed to secure our anniversary date, but we've got it in the middle of summer, rather than at the very tail end of Winter/early Spring (depending on your definition of seasons!).
And it will be filled with bucks fizz, outdoor games, barbecue food and lots and lots of dancing.
I think it's very hard to achieve that true fairytale wedding like you imagine when you're a little girl, unless money really is no object. If you have an unlimited money well, then by all means spare no expense.
But for me, what is important is that I spend the day with the people I love, doing the things I love, and starting off on a very happy marriage with the person I love.
Perfect.
– Lorna